Prescriptions 
How to get your prescription 
You should have received your prescription from your Optician the last time your eyes were tested. This must have been within the last two years and/or not have expired. If you do not have it, please ask your Optician for a copy which they are legally obliged to provide.
Understanding your prescription  
If you know your prescription, simply fill in the form provided under 'Add Prescription' or alternatively select 'upload prescription' to send us an image.
If there are any queries on your prescription, one of our Opticians will get in contact. 
Prescription terms explained 
Sphere (SPH) - Shows the degree of long-sightedness if a positive number or short sightedness if it is a negative number. 
Cylinder (CYL) - Shows the degree of irregular eye shape or 'astigmatism'. 
Axis - Indicates the direction of the CYL.
Prism - A correction made in prescriptions, so as to help both eyes work together. At present we are not processing orders with a prismatic prescription.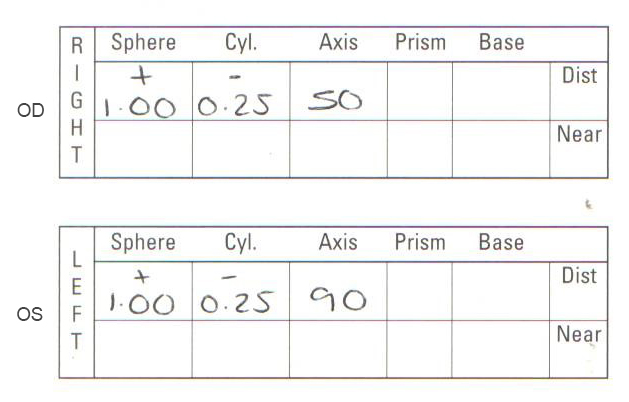 Prescription Limits  
We can only make up glasses within the following ranges:
The combined Sphere and Cyl is less than +/- 8.00 Dioptres

The Cyl is below +/- 4.00 Dioptres

There is no more than 5.00 Diopters between each eye 

No prisms prescribed
Pupillary Distance (PD) 
Pupillary Distance or PD is the distance between your eyes as measured from the centre point of your pupils, so your spectacles can be centred accordingly.
If you know your PD please forward at the same time as your prescription. You can find out your PD by simply asking your optician at the time of your eye test.
In most cases we can use an average PD. However in some cases involving more complex prescriptions, our opticians may need to call you to obtain a more accurate measurement reading and 
we will expalin then how this can be done.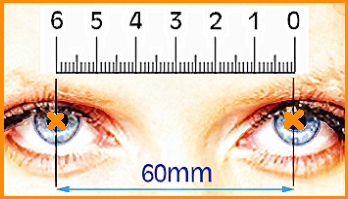 Lens Type
Single Vision
This has one prescription that covers the whole lens. This may have been prescribed for distance, close up or computer use.
Varifocal
Otherwise known as progressive or multifocal lenses. This is where the upper part has a distance prescription and transitions smoothly into the lower part of the lens which is the near prescription. 
Lens Thickness Options 
The different types / indexes available come in the following:  
Standard   1.5 Index,               Plastic lenses for quality and durability

Thin/Light  1.6 Index,              25% thinner than the standard

Super Thin/Light 1.67 Index,    30% thinner than the standard
Coatings 
Scratch Resistant 
This is an extra coating that extends the life of your lenses by increasing their resilience. It prevents damage to the surface of the lens through daily wear and tear that would otherwise affect your vision. A hard coating will provide your lenses with extra durability and so longevity.
Anti - Reflection
Eliminates the glare and reflections caused by everyday items such as computers or car headlights. It improves vision because the coating means that less light is lost through the lens. 
UV Protection
A very important protection against over 90% of harmful UV rays that could otherwise damage your eyes with possible serious consequences. 
Varifocals 
This type of lens has various parts to it and changes power throughout.The top section of the lens is used for seeing in the distance. The lens gradually changes in strength so that the middle of the lens can be used for computer work and the very bottom section will end up in the reading range. Therefore a very practical way to cover all your needs.
Ordering 
We have tried to make the whole process as easy as possible. In other words our 4 easy steps.
 STEP 1
Selecting the frame/s could not be easier. Use our main homepage to give you an indication what is selling well at the moment, with Our Best Sellers. Alternatively you can search under the Categories at the top. Once selected simply choose the colour you prefer.
STEP 2
STEP 3
Send us your prescription that must be NO MORE than two years old and unexpired. You can either fill out the prescription form provided or you can scan your latest prescription to us. Please make sure that all of the prescription is clearly visible, together with the Opticians Name and the date of your eye test. If any of these are missing, there will be delays to your order until we can obtain the relevant information.
STEP 4
          We'll do the rest of the work.
 If a mistake has been made on your order, please call us or email us within 24 hours so we can adjust your records.
Login
If you have not registered with us before, you will be asked for enter your email and then to make up your individual password. If you forget your password, click 'Forgot Password' link and follow on-screen instructions to reset it.
Tracking Order 
At all times throughout the process you will be sent emails informing you of the stage of the your order. From the first email confirming that we have received your order to any further information we may require. Finally, we will inform you that the order is on its way to you.
Delivery Charges 
When ordering to and from the UK the following charges apply:
Signed for Delivery 1st class Royal Mail - £5.95
Recorded Delivery 2nd class Royal Mail - £5.30
All European deliveries :
International Tracked & Signed Royal Mail - £9.30
Delivery Times 
Recorded deliveries:
1st Class - Allow 3-4 working days 
2nd Class - Allow 4-6 working days
International Track & Signed ( Europe Only ) - Allow 6-8 working days
All goods purchased will always be sent out by Recorded Delivery.
Consumer Terms and Conditions 
Orders placed with us must be submitted via our online shop. Please check that all the information is accurate and up to date before submitting your order. The order will only come into affect and therefore constitute a binding contract between you and us, when we acknowledge a written acceptance of your order.You will have 24 hours from the time and date of your order to make any changes. After this time charges may apply. We cannot always guarantee the availability of the goods ordered through our site. If this is the case we will contact you as soon as possible.
Delivery
The delivery times and charges will vary according to the location of your address and the delivery chosen. The order shall be deemed as completed once the goods have been delivered to the address provided. From that point the goods will be your responsibility. Ownership of the goods will only pass to you once we have received full payment of all sums due including delivery charges.
Quality of Service
We will provide services which: 
Are carried out with care and attention.
Are fit for the purpose for which they were provided and which we could reasonably expect you to use the goods.
Are free from any material defects in design, material and workmanship.
This warranty is in addition to your rights under Consumer Contracts Regulations.
You must provide us with sufficient information, instructions and time necessary in order for us to carry out the services which you have contracted us to do and hence comply with the terms of service. If you provide us with insufficient, incomplete or incorrect information we may have to cancel the order and we will notify you in writing.
We will start on the supply of the service from the date of the order and will be deemed as completed when we make delivery to the address provided. We will make every effort to complete the order on time but there could be delays which are beyond our control and we will notify you in writing. 
Refunds / Returns
 In the unusual case where there might be a problem with your order or if for some reason you are dissatisfied with your purchase, EYECANDY.DIRECT promises that there will be a 30 day guarantee for a full refund under the following conditions :
When you receive the glasses you will have 7 days to notify us at ´

[email protected]

' of any problems , stating the full details of the dissatisfaction and your order number.
You will then have a full 30 days to return the frames to the following address :
    EYECANDY.DIRECT
    11 Stockwell Road
    London, SW9 9AU
The frames must be in their original condition, together with the case and cloth provided.
Upon receiving the frame, we will send you a confirmation email, informing you of the successful delivery.
Returns must be made at the client´s own cost and the postage will only be refunded if the glasses are returned in their original condition.
Proof of postage must always be kept in case it is lost in the post.
It may take up to 7 days for the refund to appear in your bank account.
- For EUROPE wide deliveries, you will have an extra 10 days ( ie. 40 days ) from first informing us by email, for the glasses to reach our Head Office.
Contact Us
Our Head Office is open from 9am to 5pm Monday to Friday.
Global Eyes International Ltd
11 Stockwell Road
London, SW9 9AU.
Co registration number - 10620388
Please DO NOT send any returns to the above address.  Please follow our returns policy which will guide you through the process.
The best way to contact us is through our email at [email protected] - Monday to Friday 9am to 5pm . We are not open at weekends or bank holidays.